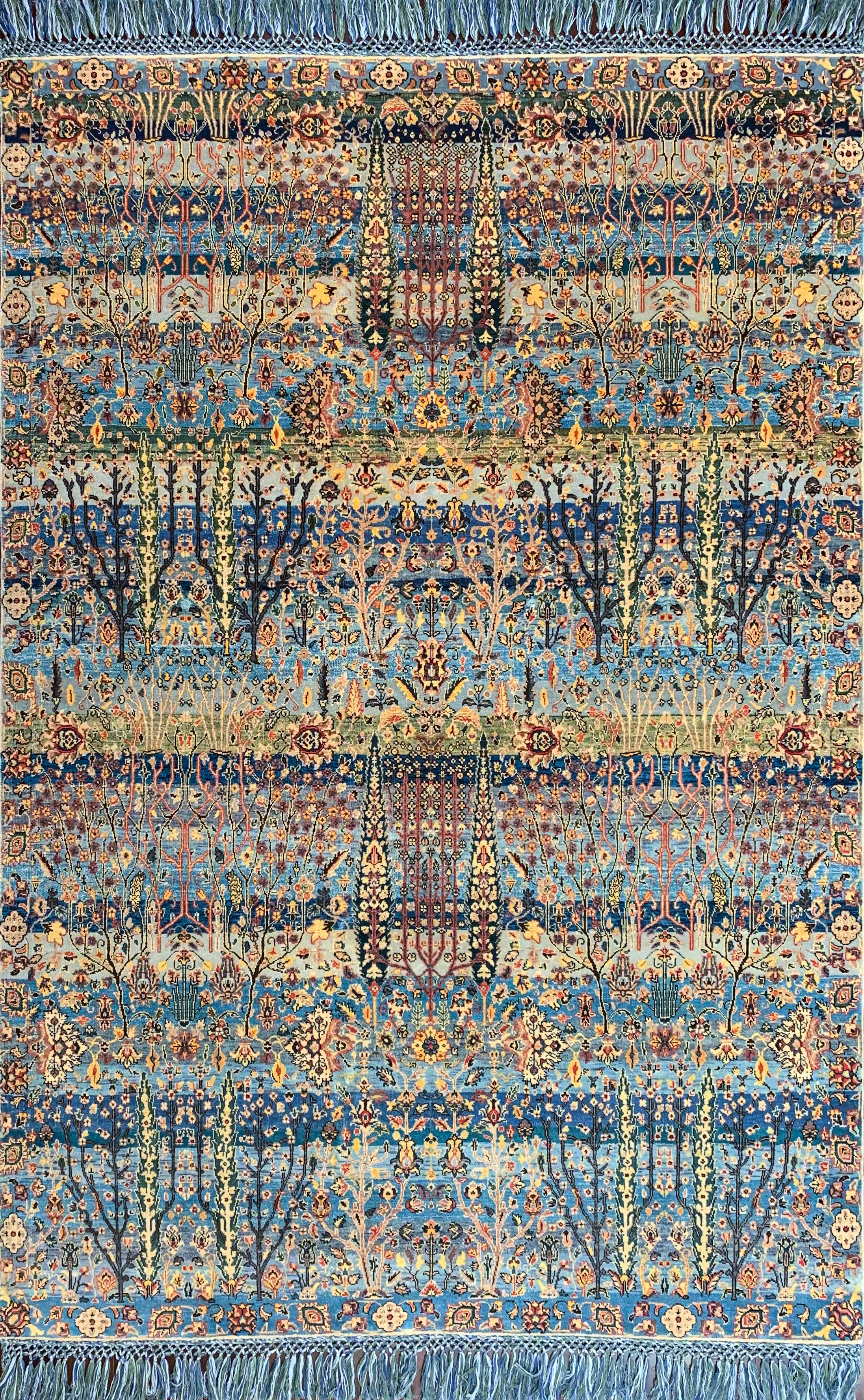 NewClassic Collection Pine Garden in BlueGreen Mix from Rug Star
Take a walk though Jürgen Dahlmanns' colorful Pine Garden from Rug Star.
The NewClassic Collection from Rug Star has sought to reposition historical patterns into a sensual place within modern interior design. While most of the forms used in the NewClassic collection are from ancient Persian rug designs, the color palette is decidedly contemporary.
Pine Garden in BlueGreen Mix is a exploration of classic Persian garden design motifs of trees and plants and their symbolic meanings of everlasting life, abundance, and prosperity. Where most of the NewClassic collection rugs employ a more neutral background to elevate the traditional motifs.
This rug is also part of the ECO series from Rug Star that uses leftover high quality materials from previous rug production with the aim to eliminate and reduce waste. The resulting rugs become spontaneous, one-of-a-kind expositions of color and materials. These designs can be reproduced, but the controlled chaos of the palette is unique to each piece.
Rug Star rugs produced in India are made with what is called a Persian Weave. By using a single thread to produce each knot the refinement of the design can be controlled to almost a pixelated level. With this method the final washing process is integral to realize the ultimate vision of the design.
This is just one example of the many wonderful rugs that we have in our showroom. Purchase through our site and have it shipped to you, or come see this or any of our other lovingly curated rugs and textiles in person in our 2037 NW Lovejoy Street showroom in NW Portland, Oregon.
Available in custom sizes upon request, contact us for further information.
Measures: 6'1" x9'0"
Materials: Wool
Designed in Berlin, Germany
Hand-knotted in Rajasthan, India
Rug Number #RS-0107
Shipping calculated by weight via Shopify.
NewClassic Collection Pine Garden in BlueGreen Mix from Rug Star
Need more information on this item?
Contact Us
Phone our Showroom, we would be happy to answer your questions or assist in arranging an in-home trial of a rug. +1 971.444.2440
Contact