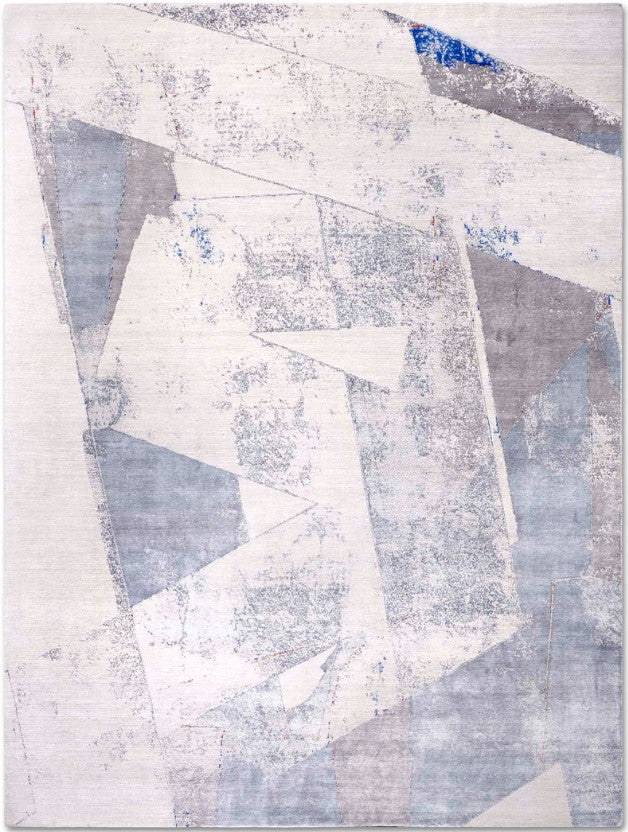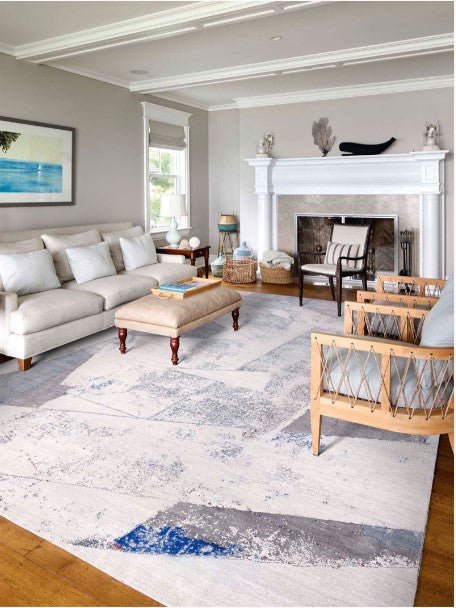 EasyMe No. 11 Original on Grey from Rug Star and Portland Designer Michael Howells
This icy edition to the popular EasyMe Collection brings a sophisticated cool to any space.
For The EasyMe Collection Jürgen collaborated with Portland based Designer, Architect, and Artist Michael Howells. The concept for EasyMe originated from Michael's deep knowledge of architecture and appreciation of art and using them to inform one another to bring movement within the defined interior space. The soft and velvet-like surface finish of the EasyMe collection is the result of a newly developed sandblast technique that takes the place of traditional finishing methods. This has the affect of softening many of the colors as well to make the pieces feel more like paintings rather than floor coverings.
Rug Star rugs produced in India are made with what is called a Persian Weave. By using a single thread to produce each knot the refinement of the design can be controlled to almost a pixelated level. With this method the final washing process is integral to realize the ultimate vision of the design.
This is just one example of the many wonderful rugs that we have in our showroom. Purchase through our site and have it shipped to you, or come see this or any of our other lovingly curated rugs and textiles in person in our 2037 NW Lovejoy Street showroom in NW Portland, Oregon.
Available in custom sizes upon request, contact us for further information. 
Measures: 8'1" x 10'3"
Materials: 40% Wool 60% Silk
Designed in Portland, Oregon
Hand-knotted in Rajasthan, India
Rug Number #C-0108
Shipping calculated by weight via Shopify.
EasyMe No. 11 Original on Grey from Rug Star and Portland Designer Michael Howells
Need more information on this item?
Contact Us
Phone our Showroom, we would be happy to answer your questions or assist in arranging an in-home trial of a rug. +1 971.444.2440
Contact