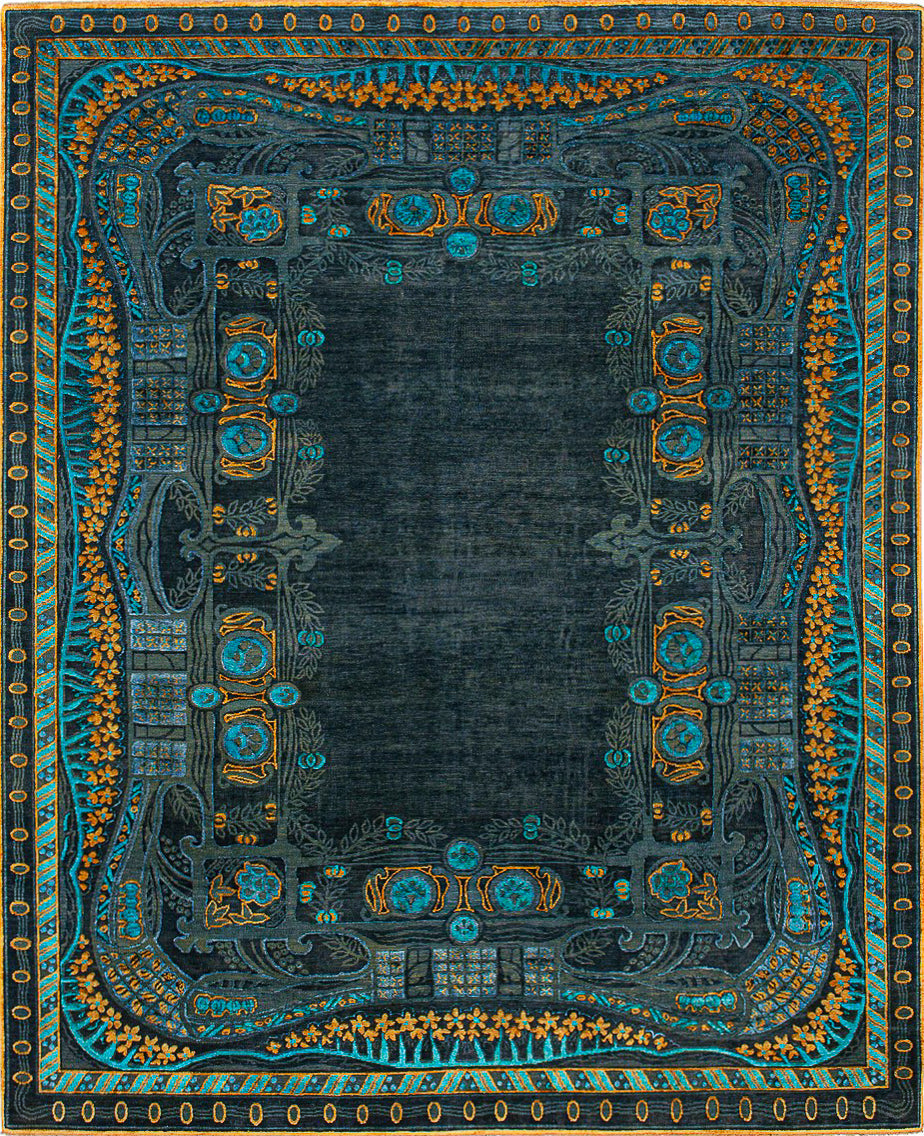 Erased Heritage Collection Art Deco No. 1 from Jan Kath
Antoni Gaudi would approve of this stunning Art Nouveau inspired addition to the Erased Heritage Collection.
The Erased Heritage Collection from Jan Kath is an exploration of the passage of time and how it can interact with timeless design. Historically, every region or culture in the rug producing world developed distinct and particular styles of carpets, each with its own signature looks and qualities. From Indian Konyas, Egyptian Mamluks, and Persian Bidjars these designs have been brought back to life knot by knot by master weavers employing a novel yet ancient method for rug production. The designs of the rug have been recorded in chanting song vs a technical diagram, allowing the passion of the teams working on them latitude to shine as they faithfully reproduce iconic patterns in original colors. Incorporated into these timeless designs is an aging of sorts mimicking the erosion or erasure of the original rug imagery. While this may look like reductive, this design is actually achieved with the addition of a silk pile cut higher than the underlying traditional design. This allows for dramatic interplay of light and shadow as the patterns themselves become the muse for the pondering of the passage of time.
Moody and enigmatic rug from Jan Kath echoing the architectural styles of Antoni Gaudí as well and Art Nouveau and surrealism. Truly stunning rug.
This is just one example of the many wonderful rugs that we have in our showroom. Purchase through our site and have it shipped to you, or come see this or any of our other lovingly curated rugs and textiles in person in our 2037 NW Lovejoy Street showroom in NW Portland, Oregon.
Available in custom sizes upon request, contact us for further information.
Measures: 8'0" x 10'0"
Materials: Wool with Silk accents
Designed in Bochum, Germany
Hand-knotted in India
Rug Number #8474
Shipping calculated by weight via Shopify.
Erased Heritage Collection Art Deco No. 1 from Jan Kath
Need more information on this item?
Contact Us
Phone our Showroom, we would be happy to answer your questions or assist in arranging an in-home trial of a rug. +1 971.444.2440
Contact