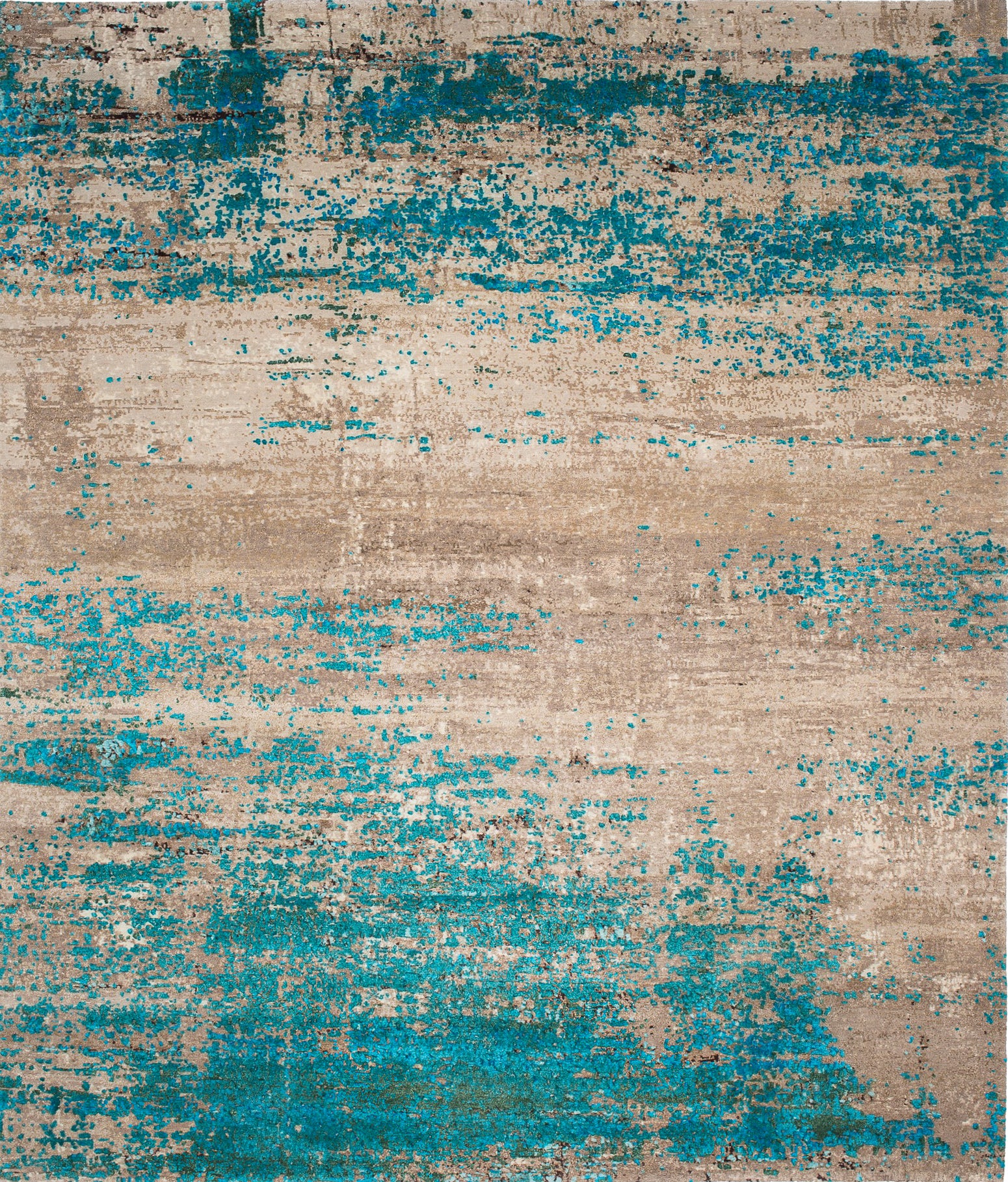 Artwork 28 in Blue from Jan Kath
Chanelling Gerhard Richter, Artwork 28 is a sublime and subtle masterpiece. 

Like many rugs and carpets in Jan Kath's collections, the Artwork series is about time and the ravages it plays on surface and texture. Here, the exploration is on how different layers of thick paint might appear after being applied one on top of the other and then exposed from wear, as if scraped an eroded away. Wool becomes the pigment in these brilliant rugs, along with shimmering silk and coarse nettle fibers for added dynamic interplay with light as well as depth of expressive ability.
Artwork 28 in Blue is one of our absolute favorites that we have from Jan Kath. The incredible depth of the green and blue tones is staggering, especially as it stands cut a bit higher than the wool and nettle fiber dappled in a sandy grey that makes up the background. 
This is just one example of the many wonderful rugs that we have in our showroom. Purchase through our site and have it shipped to you, or come see this or any of our other lovingly curated rugs and textiles in person in our 2037 NW Lovejoy Street showroom in NW Portland, Oregon.
Available in custom sizes upon request, contact us for further information.
Measures: 8'0" x 10'0"
Materials: Wool, Silk, and a small amount of Nettle fibers
Designed in Bochum, Germany
Hand-knotted in India
Rug Number #7833
Shipping calculated by weight via Shopify.
Artwork 28 in Blue from Jan Kath
Need more information on this item?
Contact Us
Phone our Showroom, we would be happy to answer your questions or assist in arranging an in-home trial of a rug. +1 971.444.2440
Contact