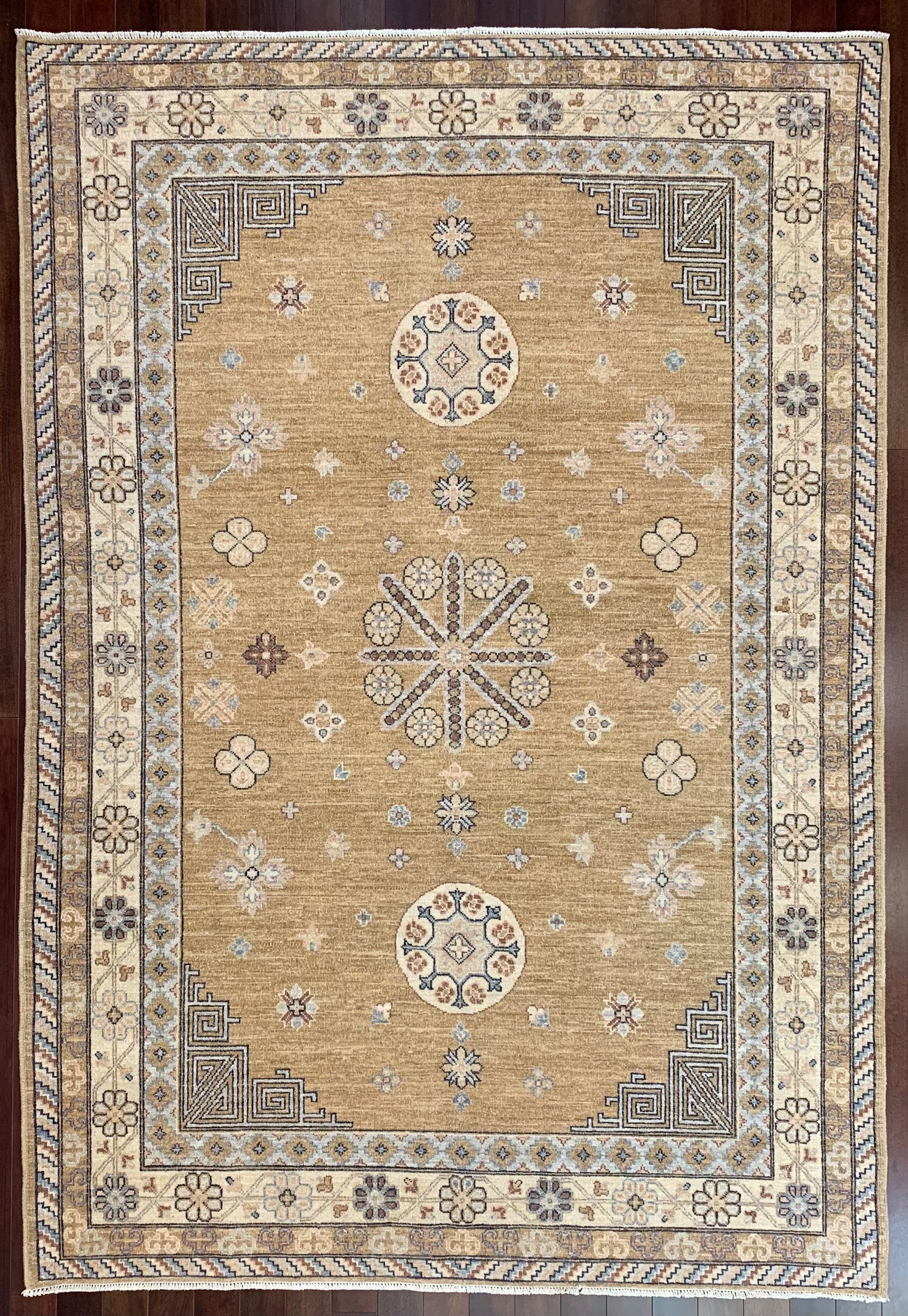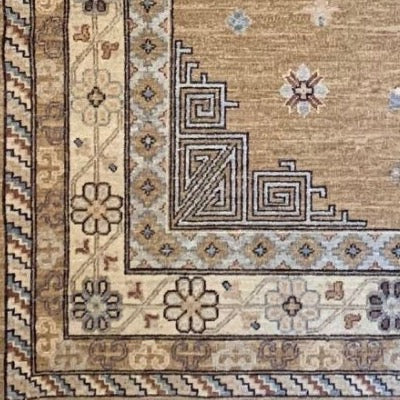 Neutral Toned Khotan 6x9 Rug
This lovely neutral Khotan style rug showcases the vast source of influences often seen in true handmade rugs.

We asked one of our rug producers in Afghanistan to make a Khotan style rug, but to use more of the palette seen in many contemporary Oushak rugs. We were pretty happy with the results. 

We often refer to Khotan rugs as the true "Silk Road" rugs as the look can range from Persian and Greek motifs to Indian and Chinese designs elements, and all manner of combinations in between! This particular piece has corner spandrels in the central field with a bit of a Chinese influence, but some floral elements in the sub border not unlike one might see in a Persian or Turkish rug. While the three mandala elements give a distinct nod to central medallions often seen in rugs knotted in India. The lower cut pile height has a slightly coarse feel, which is very typical of rugs hand-knotted in Afghanistan. 
It really illustrates one of the more interesting qualities to handmade rugs, and the reflection of all the influences different cultures borrow and exchange from one another within this world. 
This is just one example of the many wonderful rugs that we have in our showroom. Purchase through our site and have it shipped to you, or come see this or any of our other unique and one-of-a-kind hand-knotted rugs in person at our 2037 NW Lovejoy Street showroom in NW Portland, Oregon.
Measures: 6'1" x 8'10"
Materials: Wool
Hand-knotted in Afghanistan
Rug # 8355
Shipping calculated by weight via Shopify.
Neutral Toned Khotan 6x9 Rug
Need more information on this item?
Contact Us
Phone our Showroom, we would be happy to answer your questions or assist in arranging an in-home trial of a rug. +1 971.444.2440
Contact