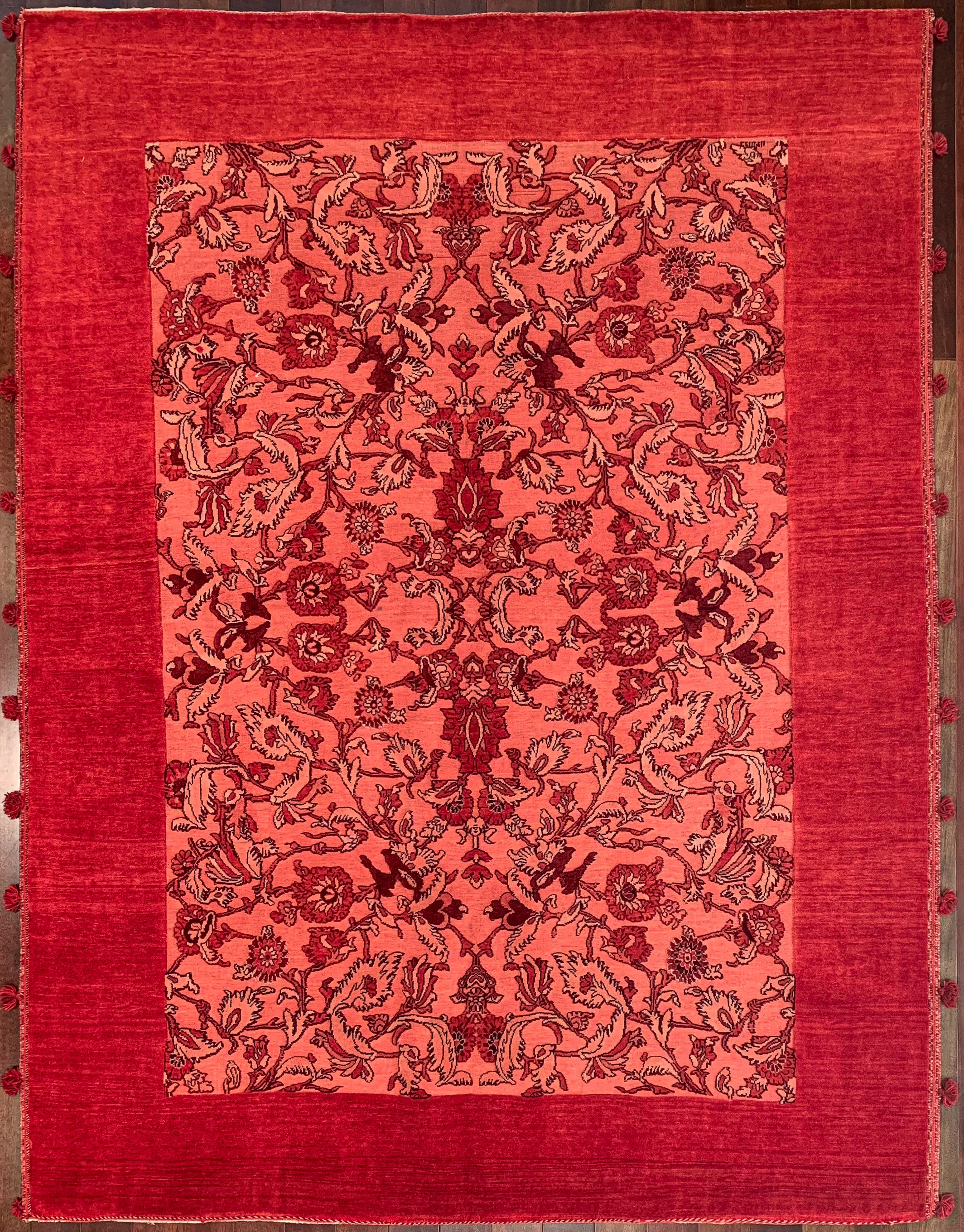 Striking Magenta and Rose Colored Soumak Weave
Bold Soumak Weave with Gabbeh Pile in a vibrant Magenta and Rosy Design.
This is a very unusual piece and when we saw it on a trip to New York we knew we needed to bring it to our shop. The darker, thick border of rich red is hand-knotted pile like in Gabbeh rugs from the region. The central field of meandering floral shapes is a combination of pile and flat-woven areas, resulting in a dynamic three-dimensional quality to the design. 

The vibrant red and magenta tones are actually made using naturally occurring plants and mineral additives as opposed to chemical based dyes. This in combination with the hand-spun and carded wool which retains a higher lanolin content, much more so than wool that is over-processed and bleached out, has the affect of dyeing each individual strand of wool uniquely. The resulting variety of shades and tones within each color used is just incredible and really needs to be seen to be believed. 
This is just one example of the many wonderful rugs that we have in our showroom. Purchase through our site and have it shipped to you, or come see this or any of our other unique and one-of-a-kind hand-knotted rugs in person in our 2037 NW Lovejoy Street showroom in NW Portland, Oregon.
Measures:5'8" x 7'7"
Materials: Handspun Wool and Naturally Sourced Dyes
Hand-knotted in Southern Iran by Semi-Nomadic Weavers.
Rug # 8749
Shipping calculated by weight via Shopify.
Striking Magenta and Rose Colored Soumak Weave
Need more information on this item?
Contact Us
Phone our Showroom, we would be happy to answer your questions or assist in arranging an in-home trial of a rug. +1 971.444.2440
Contact