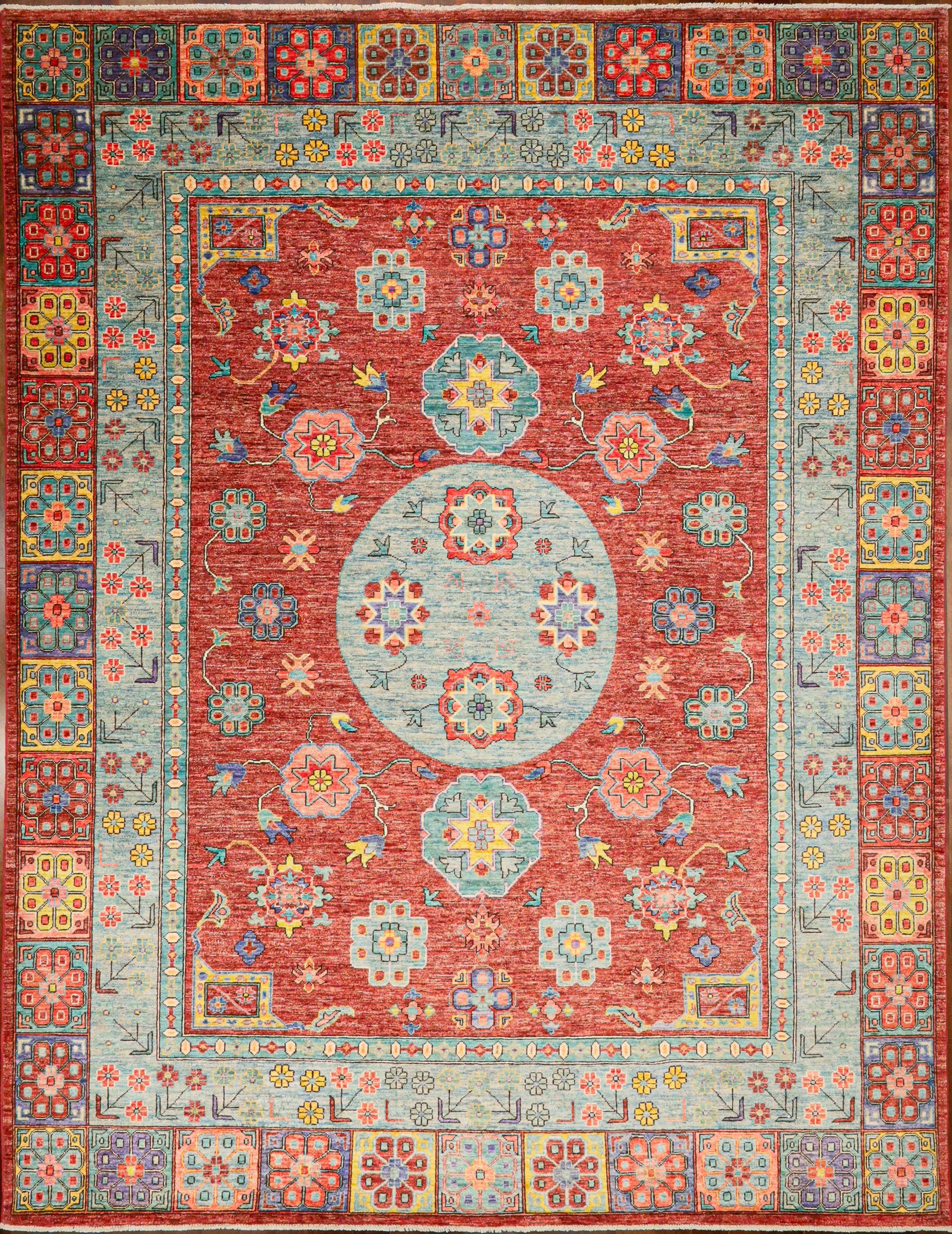 Colorful and Vibrant Khoton Pattern 8x10 Rug
This Really Energetic Khoton Pattern is Both Traditional As Well As Being Transitional .

This hand-knotted 8x10 rug features a design most often classified as a Khoton pattern. Khotons are often called "The Silk Road" rugs, as the elements seen in them span from one end of the fabled trade route to the other, and in a myriad of combinations. This particular one has a floral border not unlike many Persian or even Kurdish rugs, though the central medallion area has a distinctly Peking arrangement of three circles. 

The color palette used here is a fun and lively combination of reds and blue greens for a vibrant contrast with numerous added tones and shades of greens, yellows, and orange. 
This is just one example of the many wonderful rugs that we have in our showroom. Purchase through our site and have it shipped to you, or come see this or any of our other unique and one-of-a-kind hand-knotted rugs in person at our 2037 NW Lovejoy Street showroom in NW Portland, Oregon.
Measures: 8'1" x 10'3"
Materials: Wool
Hand-knotted in Pakistan
Rug # 8854
Shipping calculated by weight via Shopify.
Colorful and Vibrant Khoton Pattern 8x10 Rug
Need more information on this item?
Contact Us
Phone our Showroom, we would be happy to answer your questions or assist in arranging an in-home trial of a rug. +1 971.444.2440
Contact