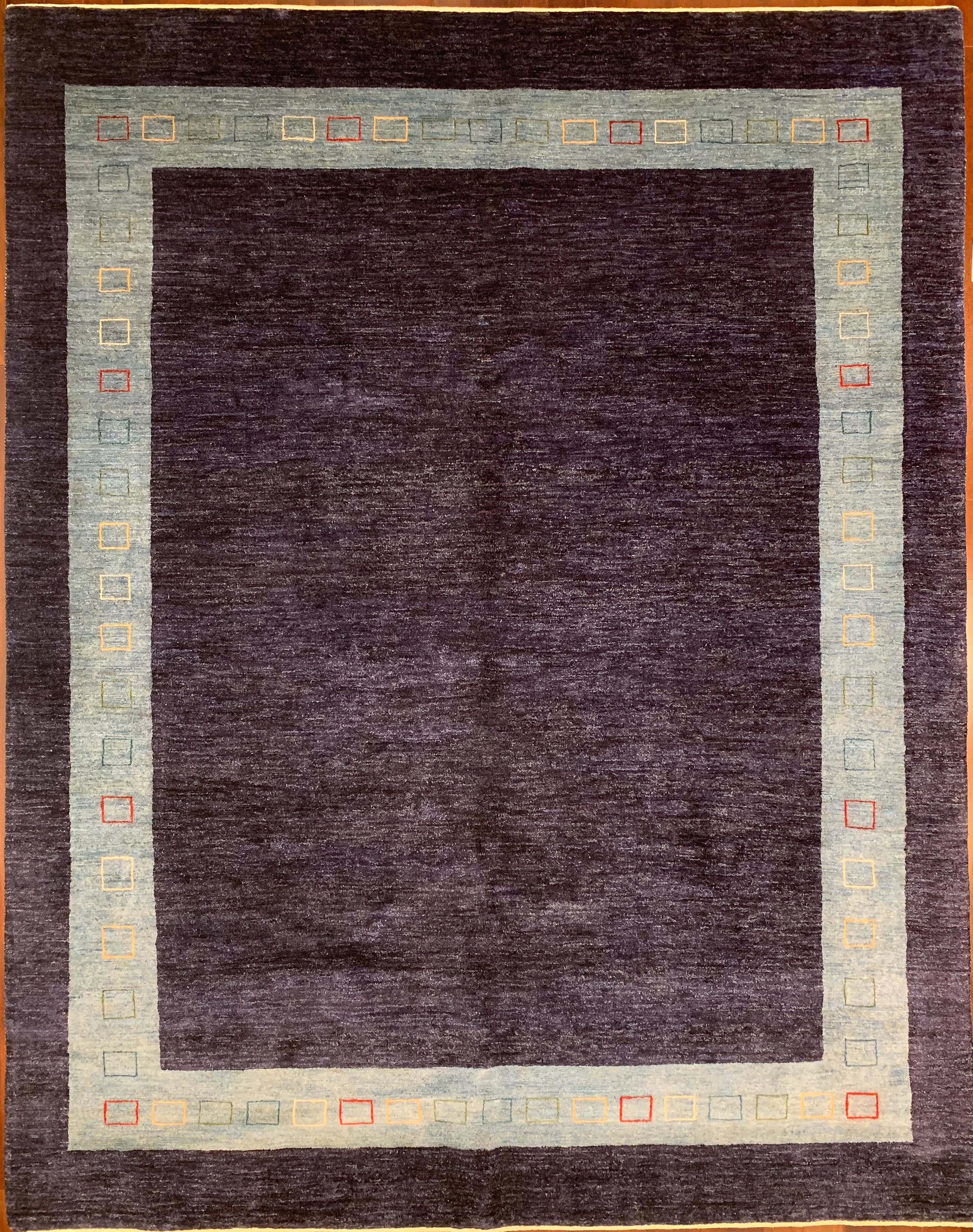 Thick Blue Gabbeh 8x10 Made Using Real Indigo
Deep Blue Indigo Gabbeh With Light Blue Border

This 8x10 Gabbeh has a Contemporary feel while possessing all the qualities of a well made Tribal rug. The high altitude wool is cultivated from sheep that have lived among herding tribes in the Zagros Mountains of Southern Iran for centuries. This dense wool retains much of its natural lanolin. Which, when combined with dyes sourced from natural plant and root sources, creates rugs that are as durable and hard wearing as they are beautiful and soft to the touch. This blue is derived from natural growing indigo plants in the region the semi-nomadic weavers inhabit. The rug itself is thick and ideal for a busy living room or a tranquil bedroom. 
This is just one example of the many wonderful rugs that we have in our showroom. Purchase through our site and have it shipped to you, or come see this or any of our other unique and one-of-a-kind hand-knotted rugs in person in our 2037 NW Lovejoy Street showroom in NW Portland, Oregon.
Measures: 7'10" x 9'11"
Materials: Handspun Wool and Naturally Sourced Dyes
Hand-knotted in Southern Iran by Semi-Nomadic Weavers.
Rug #8754
Shipping calculated by weight via Shopify.
Thick Blue Gabbeh 8x10 Made Using Real Indigo
Need more information on this item?
Contact Us
Phone our Showroom, we would be happy to answer your questions or assist in arranging an in-home trial of a rug. +1 971.444.2440
Contact