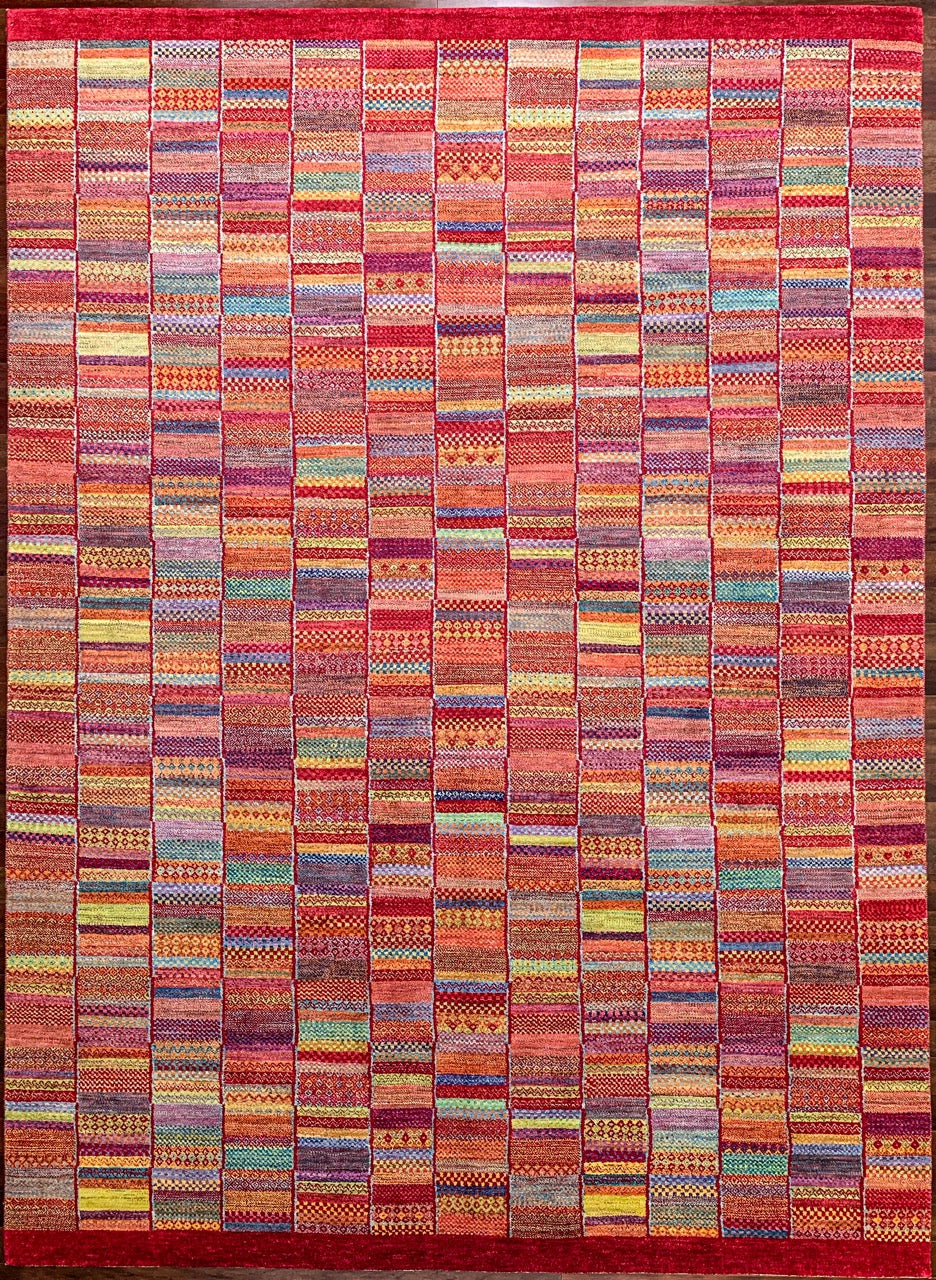 Vibrant Large Sized Gabbeh with Colorful Pattern
This is a really fun larger Gabbeh that we recently brought into the store. It has several bands of patterning running vertically in all sort of configurations of stripes and colors. The overall affect is of a "red" rug but the list of vibrant colors in the pattern is nearly endless. These large Gabbeh rugs have become harder and harder to find on the market and we feel that we are lucky to have found several on a recent trip to see our friends at Zollanvari in New York. One fascinating thing about Gabbeh rugs is that all the colors seen here are derived from natural occurring sources. The reds are from the root of the madder plant, which takes 5 years to mature enough for harvesting to use in dye production. The various orange and ambers are achieved when pomegranate skins are added to the vats of madder dye. all the blue tones are derived form the indigo plant native to the region the semi-nomadic herders migrate their flocks though with the seasons. The greens come from first dying the wool yellow with onion skins or thistle, then over-dying it with an exhaust of the indigo dye to blend the colors. 
This is just one example of the many wonderful rugs that we have in our showroom. Purchase through our site and have it shipped to you, or come see this or any of our other unique and one-of-a-kind hand-knotted rugs in person in our 2037 NW Lovejoy Street showroom in NW Portland, Oregon.
Measures: 8'2" x 11'2"
Materials: Handspun Wool and Naturally Sourced Dyes
Hand-knotted in Southern Iran by Semi-Nomadic Weavers.
Rug #8757
Shipping calculated by weight via Shopify.
Need more information on this item?
Contact Us
Phone our Showroom, we would be happy to answer your questions or assist in arranging an in-home trial of a rug. +1 971.444.2440
Contact