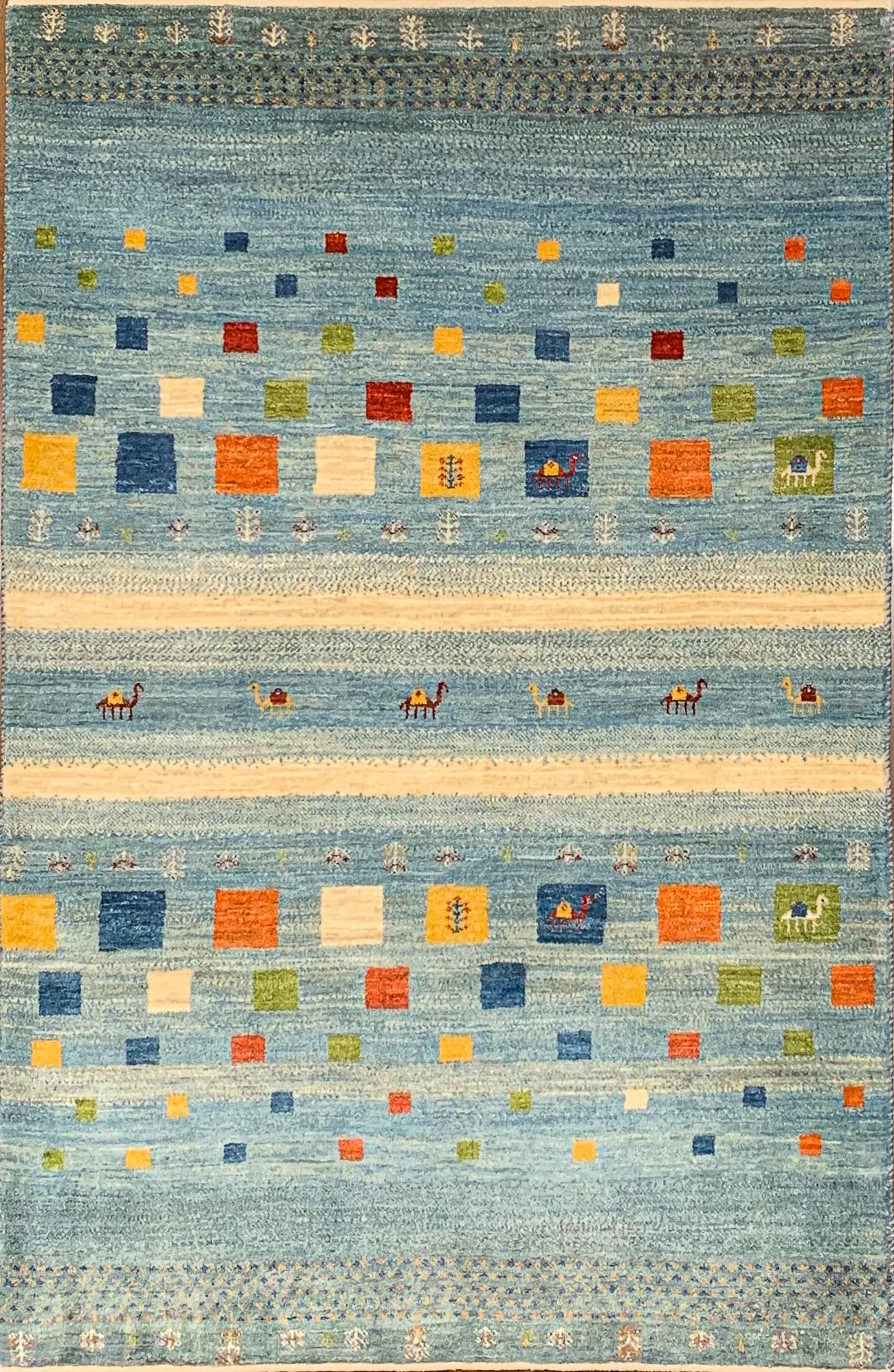 Blue 3x5 Gabbeh With Colorful Squares
Whimsical Blue Gabbeh with Squares of Red, Blue, Gold, and Ivory
One of the more unique Gabbeh's in our curated collection. The blue areas made using indigo dyed wool blend into a center line of undyed wool framing a row of camels laden with saddles in another row of light blue. Several other camels are seen throughout the squares of bright colors suggesting perspective shift, but these rugs are so abstract that perspective becomes something only the weaver can know. Several plant elements are also present dispersed throughout the fields of blue. 
Purchase through our site, or contact us at (971) 444-2440 to set up a viewing appointment.
This is just one example of the many wonderful rugs that we have in our showroom. Purchase through our site and have it shipped to you, or come see this or any of our other unique and one-of-a-kind hand-knotted rugs in person in our 2037 NW Lovejoy Street showroom in NW Portland, Oregon.
Measures: 3'4" x 4'9"
Materials: Handspun Wool and Naturally Sourced Dyes
Hand-knotted in Southern Iran by Semi-Nomadic Weavers.
Rug #7217
Shipping calculated by weight via Shopify.
Blue 3x5 Gabbeh With Colorful Squares
Need more information on this item?
Contact Us
Phone our Showroom, we would be happy to answer your questions or assist in arranging an in-home trial of a rug. +1 971.444.2440
Contact