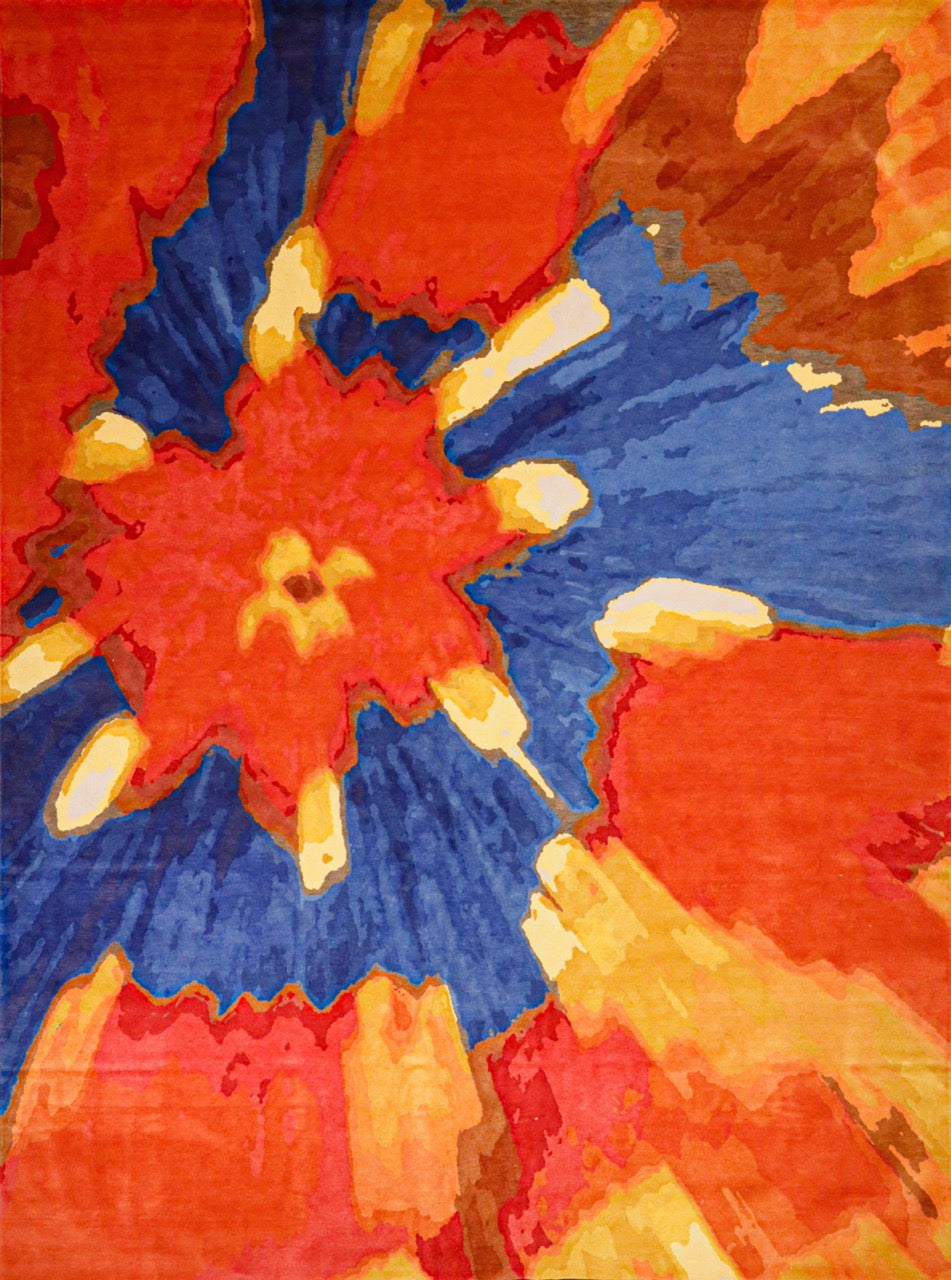 This Is a Millinger + Howells Beshir 2.1 9x12 Rug
In a world full of beautiful objects, why design another rug collection? How can it be fresh and relevant?
Those questions inspired THIS IS A MILLINGER + HOWELLS RUG, a series of 7 wool and silk pieces designed by architect Michael Howells, colorized by textile expert and collector Christiane Millinger, and hand-knotted by exceptional artisans in Nepal. 
 Bold, blurred color-saturated designs spin off a central axis, suggesting otherworldly topographies and distant galaxies in each rug in the series. But the source for these images is much closer to home: a set of 5 antique Turkmen Tekke, Beshir, Luri, Yastik, and Qashqaii rugs from the 19th century, collected by Christiane Millinger.
Said to have lived along the banks of the Amu Darya river, which flows though modern Uzbekistan and Afghanistan, the Beshir faced the daunting reality that often comes with being placed between two fierce empires. With the Persians to the West of them, and the fierce Turkmen to the East, the accepted belief is that one (if not both) of these empires subverted the Beshir and likely sold them into servitude to the other. Speculation exists as to whether the Beshir willingly integrated into the societies that absorbed them, and how much influence seeped into textiles coming from both regions, such as this bag panel remnant that inspired this new rug, dated to around 1875.
This is just one example of the many wonderful rugs that we have in our showroom. Purchase through our site and have it shipped to you, or come see this or any of our other unique and one-of-a-kind hand-knotted rugs in person at our 2037 NW Lovejoy Street showroom in NW Portland, Oregon.
Measures: 8'11" x 12'1"
Materials: Wool
Hand-knotted in Nepal
Rug #8843
Shipping calculated by weight via Shopify.
This Is a Millinger + Howells Beshir 2.1 9x12 Rug
Need more information on this item?
Contact Us
Phone our Showroom, we would be happy to answer your questions or assist in arranging an in-home trial of a rug. +1 971.444.2440
Contact