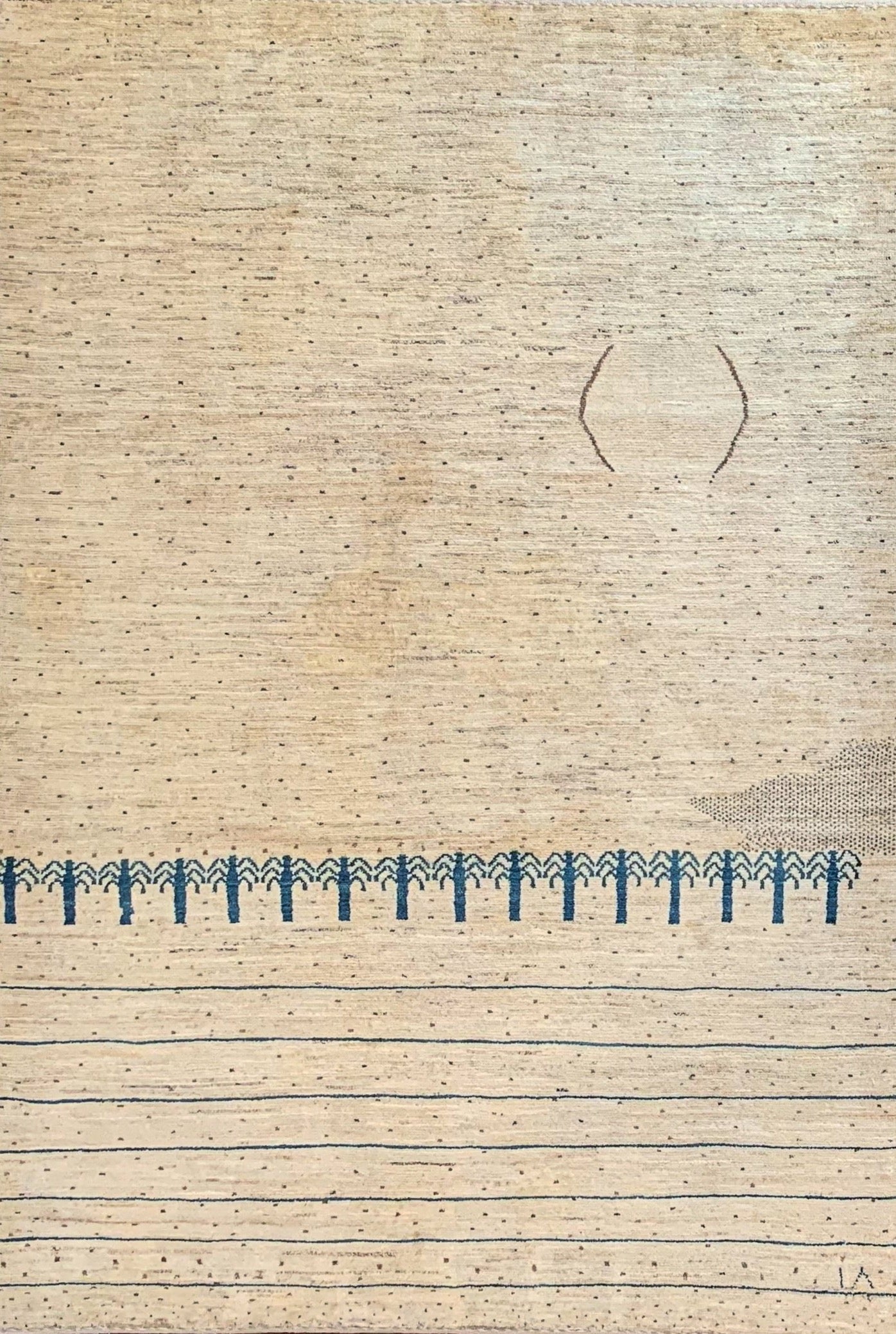 Undyed 4x6 Gabbeh with Oasis Mirage
Undyed Wool Gives Way to a Mirage of Palms in This Abstract Gabbeh. 
This Gabbeh reminded me of a desert mirage from the first moment I saw it. The blue green palms seem to leap out from a parched landscape. The lines below the palms reminded me of the way the light is bent in heat to resemble glassy lines in the distance.
Most of this piece is produced using undyed wool in its natural tones, with the exception of the palms and blue lines in the foreground. These are made with mixture of yellow dyes produced form thistle and onion skins with a diluted indigo wash to get the desired hue. 

This is just one example of the many wonderful rugs that we have in our showroom. Purchase through our site and have it shipped to you, or come see this or any of our other unique and one-of-a-kind hand-knotted rugs in person in our 2037 NW Lovejoy Street showroom in NW Portland, Oregon.
Measures: 4'0" x 5'10"
Materials: Handspun Wool and Naturally Sourced Dyes
Hand-knotted in Southern Iran by Semi-Nomadic Weavers.
Rug #8751
Shipping calculated by weight via Shopify.
Undyed 4x6 Gabbeh with Oasis Mirage
Need more information on this item?
Contact Us
Phone our Showroom, we would be happy to answer your questions or assist in arranging an in-home trial of a rug. +1 971.444.2440
Contact