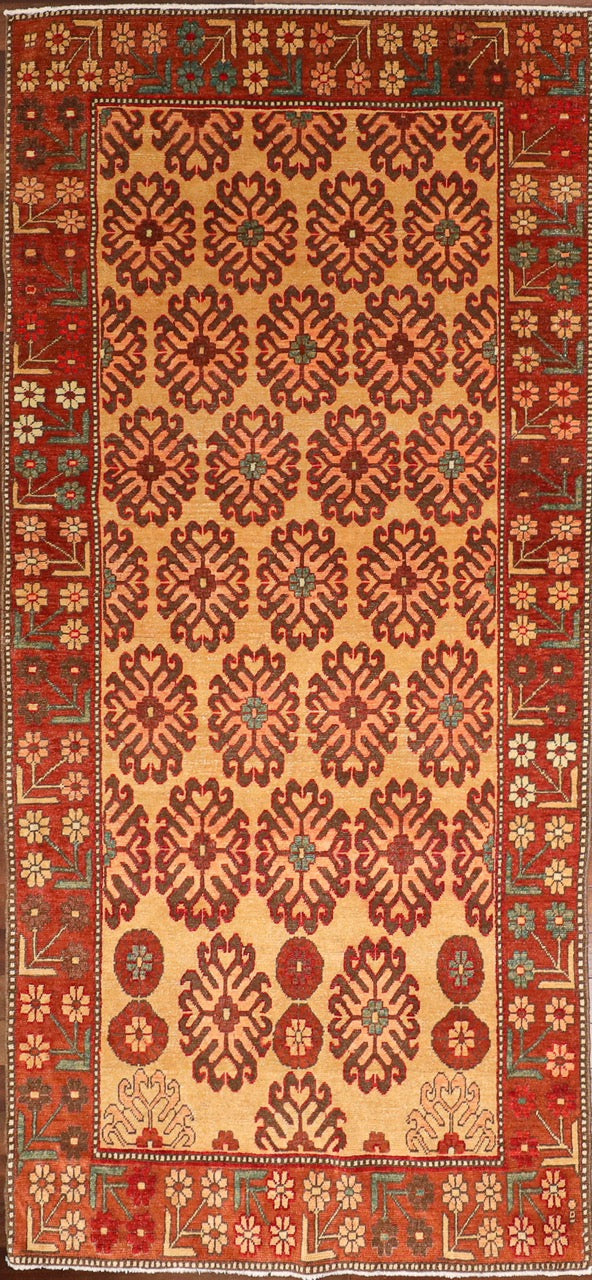 Woven Legends Khotan 4x9 Hall Runner
Classic and Timeless. This Khotan from Woven Legends traverses the entire Silk Route
Woven Legends has become something of cult following in the world of rugs and textiles among those that know their story. They are credited with bringing back the craft of hand-knotted rugs by meticulously researching designs and documenting examples in museums around the world. Then faithfully reproducing the designs using methods and dye recipes handed down like family secrets from one generation to the next. This Khotan style rug is a great example of the merging of cultures that took place between the Orient and the Near East as the Silk Road meandered through different regions and cultures. The border has very Persian elements in the depictions of the flowers, but the latch-hook medallions in the central area have something of an Asian influence on the design. These are truly unique rugs that illustrate how textile patterns change and evolve with the peoples that they interact with.
This is just one example of the many wonderful rugs that we have in our showroom. Purchase through our site and have it shipped to you, or come see this or any of our other unique and one-of-a-kind hand-knotted rugs in person at our 2037 NW Lovejoy Street showroom in NW Portland, Oregon.
Measures: 4'2" x 8'9"
Materials: Wool
Hand-knotted in Turkey
Rug # 6200
Shipping calculated by weight via Shopify.
Woven Legends Khotan 4x9 Hall Runner
Need more information on this item?
Contact Us
Phone our Showroom, we would be happy to answer your questions or assist in arranging an in-home trial of a rug. +1 971.444.2440
Contact