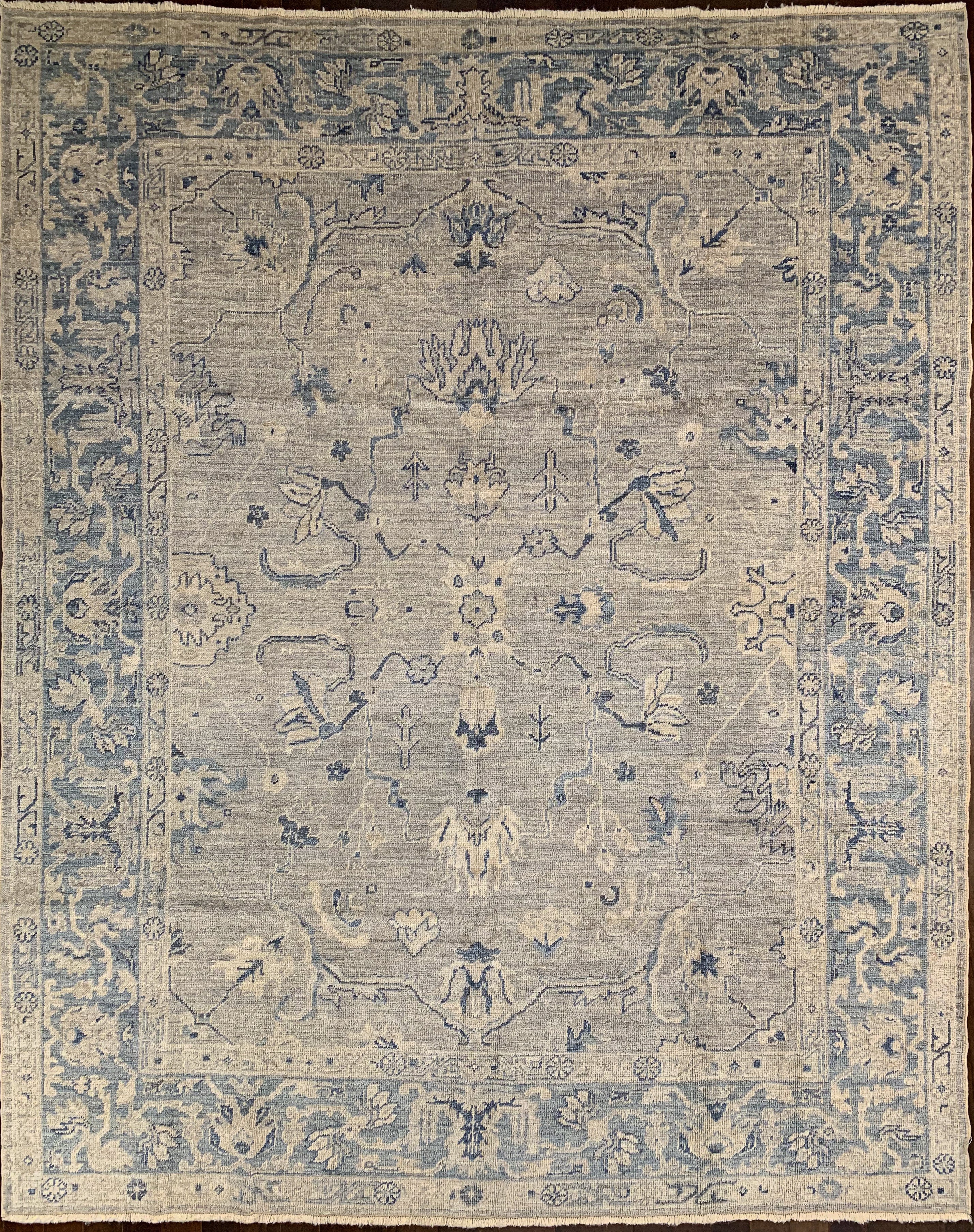 Cool Blue and Grey Angora Ushak 8x10 Rug
This col blue and grey Ushak would be at home in both a traditional and a contemporary setting. 
Ushak rugs and carpets, also occasionally spelled Oushak, are a style of rug that has enjoyed a resurgence in popularity within interior design during past decade. However, the aesthetic of the modern Ushak rug design actually originate in the 19th Century. While the areas around Istanbul have been known for producing rugs and carpets of high quality since the 15th Century, during the late Ottoman period the designs began to show a distinctly Persian influence with larger floral shapes combined with a usage of softer, more pastel like color palettes. The open motifs are said to foster a feeling of calmness, which is often accentuated by the color choices. Typically employing a larger knot and a silky luxurious wool and Angora blend, these rugs bring a casual formality and are often designed with larger rooms in mind.
This Ushak has been hand knotted in a lovely grey and cool beige with a steely blue tone. Ideal for a contemporary interior design look, yet also would be right at home in a more traditional environment. 

We are proud to feature Ushaks from Anadol Rugs. Anadol is unique in that they are the only manufacturer of Ushak rugs with a geographic patent from the Turkish Government authenticating their Ushaks as being produced in the city of the same name. Much like Champagne and Bourbon, only these rugs can be called true Ushaks.
This is just one example of the many wonderful rugs that we have in our showroom. Purchase through our site and have it shipped to you, or come see this or any of our other unique and one-of-a-kind hand-knotted rugs in person in our 2037 NW Lovejoy Street showroom in NW Portland, Oregon.
Measures: 7'9" x 9'8"
Materials: Angora Wool
Hand-knotted in Western Türkiye.
Rug 8770
Shipping calculated by weight via Shopify.
Cool Blue and Grey Angora Ushak 8x10 Rug
Need more information on this item?
Contact Us
Phone our Showroom, we would be happy to answer your questions or assist in arranging an in-home trial of a rug. +1 971.444.2440
Contact