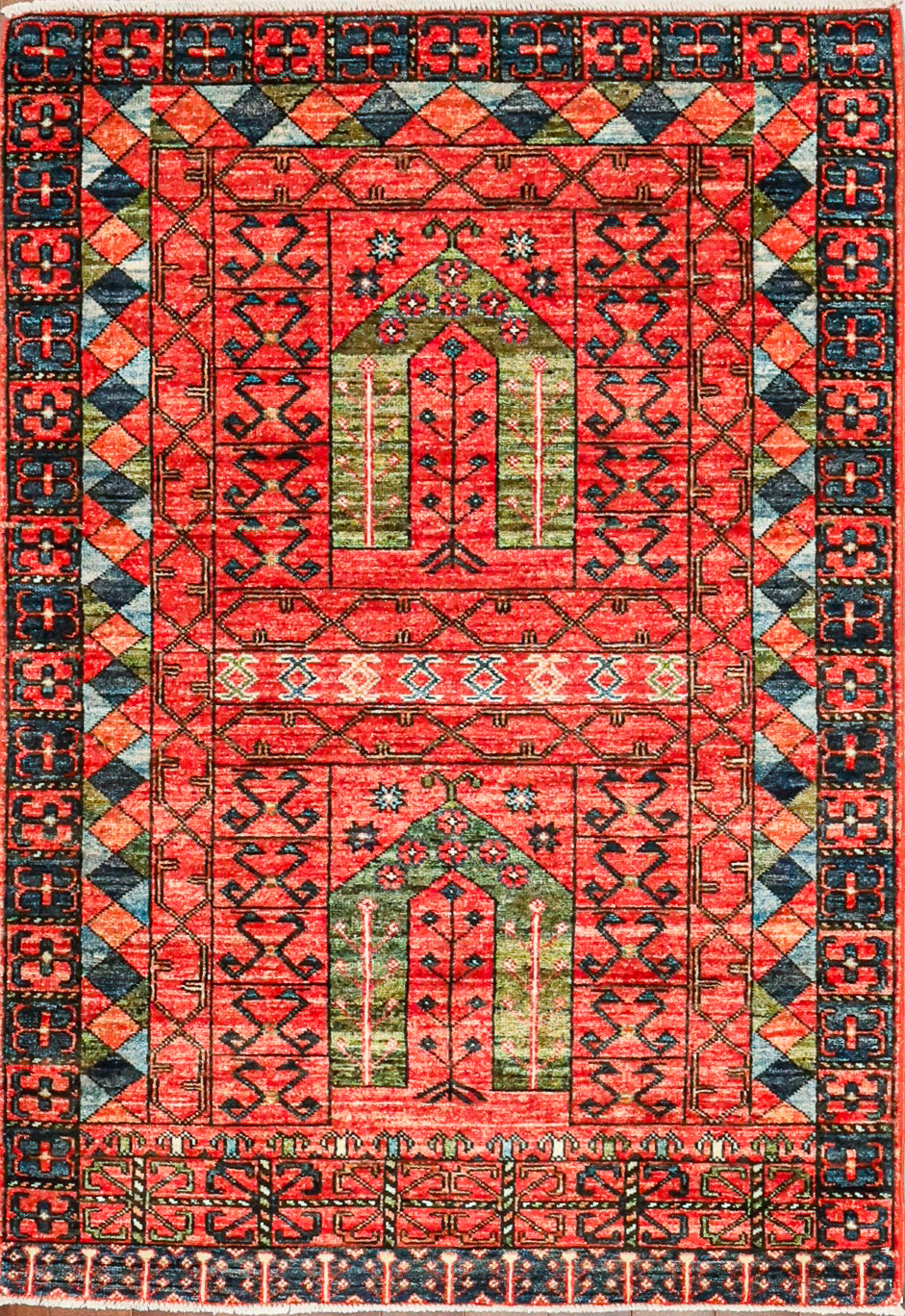 Tribal Patterned Ersari Engsi 3x5 Throw Rug
The Welcoming Charm of the Engsi design is a Classic Tribal Textile Look That Has Been Repurposed as Contemporary Rustic Furnishing. 

These types of rugs, known as Engsi designs, have their roots in the woven and knotted textiles originally made to function as covers of entryways on tents and yurt type dwellings that semi-nomadic hearing tribes would erect along their migration routes. Some older antique examples may even still have sections of flat woven areas at one end to facilitate the running of poles through, so the textile could be opened and closed, similar to drapes.
These designs have been produced as dedicated rugs in the contemporary age and the directional, asymmetrical charm of the Engsi pattern is now a commonly seen look. 
This is just one example of the many wonderful rugs that we have in our showroom. Purchase through our site and have it shipped to you, or come see this or any of our other unique and one-of-a-kind hand-knotted rugs in person at our 2037 NW Lovejoy Street showroom in NW Portland, Oregon.
Measures: 3'5" x 4'10"
Materials: Wool
Hand-knotted in Pakistan
Rug # 8857
Shipping calculated by weight via Shopify.
Tribal Patterned Ersari Engsi 3x5 Throw Rug
Need more information on this item?
Contact Us
Phone our Showroom, we would be happy to answer your questions or assist in arranging an in-home trial of a rug. +1 971.444.2440
Contact