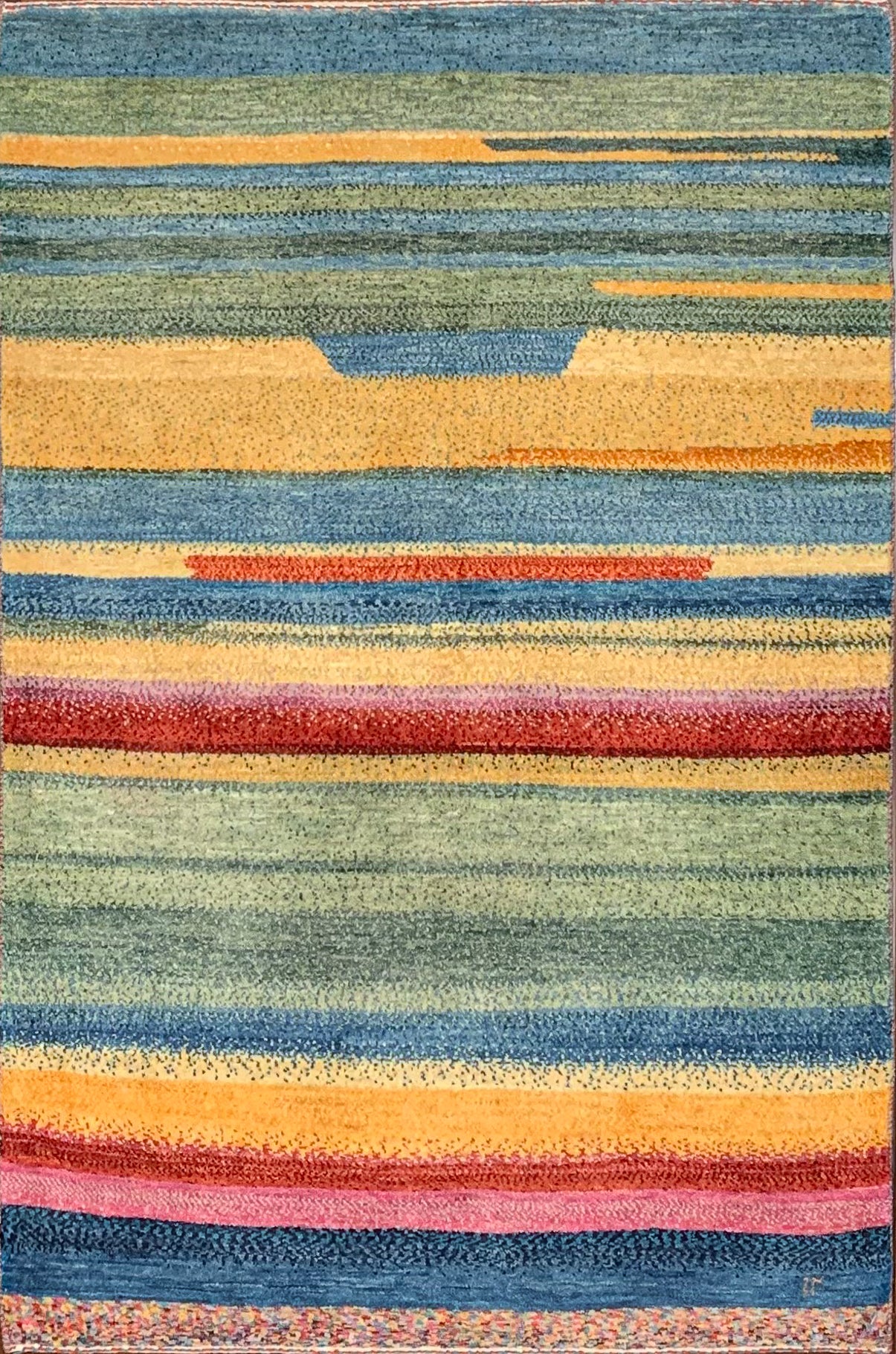 Colorful and Abstract 3x5 Gabbeh
Colorful Horizon Landscape in Vivid Color
Hard to believe that this charming gabbeh rug is made using only natural sourced dyes from plant and vegetable sources. The blue tones are the result of using real indigo dye from harvested plants that grow in the valley of the Zagros Mountains. The reds come from madder root that takes the plant maturing 5 to 7 years before it can be harvested for dye production. The yellow tones are the result of milkweed thistle and onion skins, and the greens are the result of first dyeing the wool yellow then over dyed with indigo. Salts are added to to mixture to produce some of the more vibrant pinks. The wool takes on the dye in slightly different degrees due to the amount of lanolin present in the wool, which is all cut and spun into yard by hand, as it has been done since time immemorial.
This is just one example of the many wonderful rugs that we have in our showroom. Purchase through our site and have it shipped to you, or come see this or any of our other unique and one-of-a-kind hand-knotted rugs in person in our 2037 NW Lovejoy Street showroom in NW Portland, Oregon.
Measures: 3'3" x 4'10"
Materials: Handspun Wool and Naturally Sourced Dyes
Hand-knotted in Southern Iran by Semi-Nomadic Weavers.
Rug #7534
Shipping calculated by weight via Shopify.
Colorful and Abstract 3x5 Gabbeh
Need more information on this item?
Contact Us
Phone our Showroom, we would be happy to answer your questions or assist in arranging an in-home trial of a rug. +1 971.444.2440
Contact