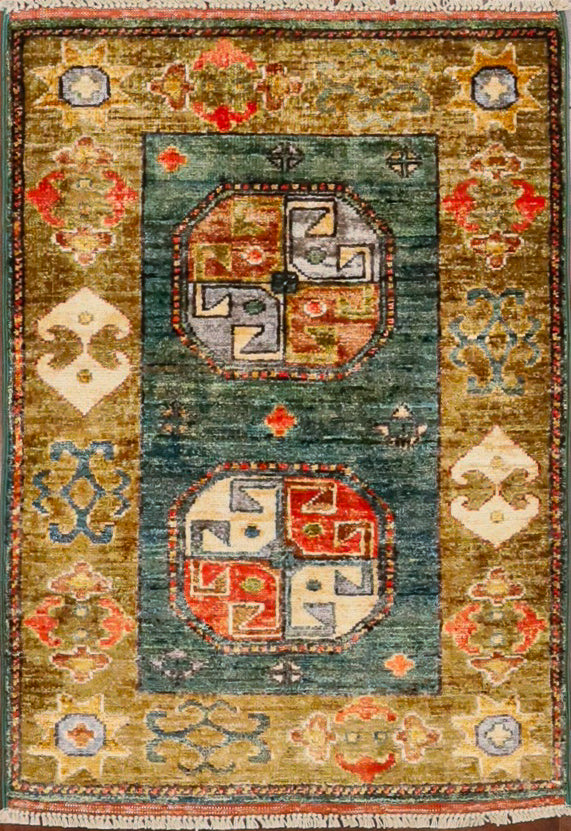 Small Ersari Turkmen Pattern 2x3
Smaller Throw Rug With Great Tribal Appeal. 
This small throw rug is ideal for an entry or perhaps being placed in a kitchen. The wool construction can handle the wear and tear of daily life and can be washed with relative ease. 

The design is based on older Ersari rugs. more often simply categorized as Bokhara rugs. The octagonal Gul shape is actually still seen in the flag of Turkmenistan, which was and still is part of the region that the producers of the rugs have called home for centuries. 
This is just one example of the many wonderful rugs that we have in our showroom. Purchase through our site and have it shipped to you, or come see this or any of our other unique and one-of-a-kind hand-knotted rugs in person at our 2037 NW Lovejoy Street showroom in NW Portland, Oregon.
Measures: 2'1" x 2'11"
Materials: Wool
Hand-knotted in Pakistan
Rug # 8858
Shipping calculated by weight via Shopify.
Small Ersari Turkmen Pattern 2x3
Need more information on this item?
Contact Us
Phone our Showroom, we would be happy to answer your questions or assist in arranging an in-home trial of a rug. +1 971.444.2440
Contact