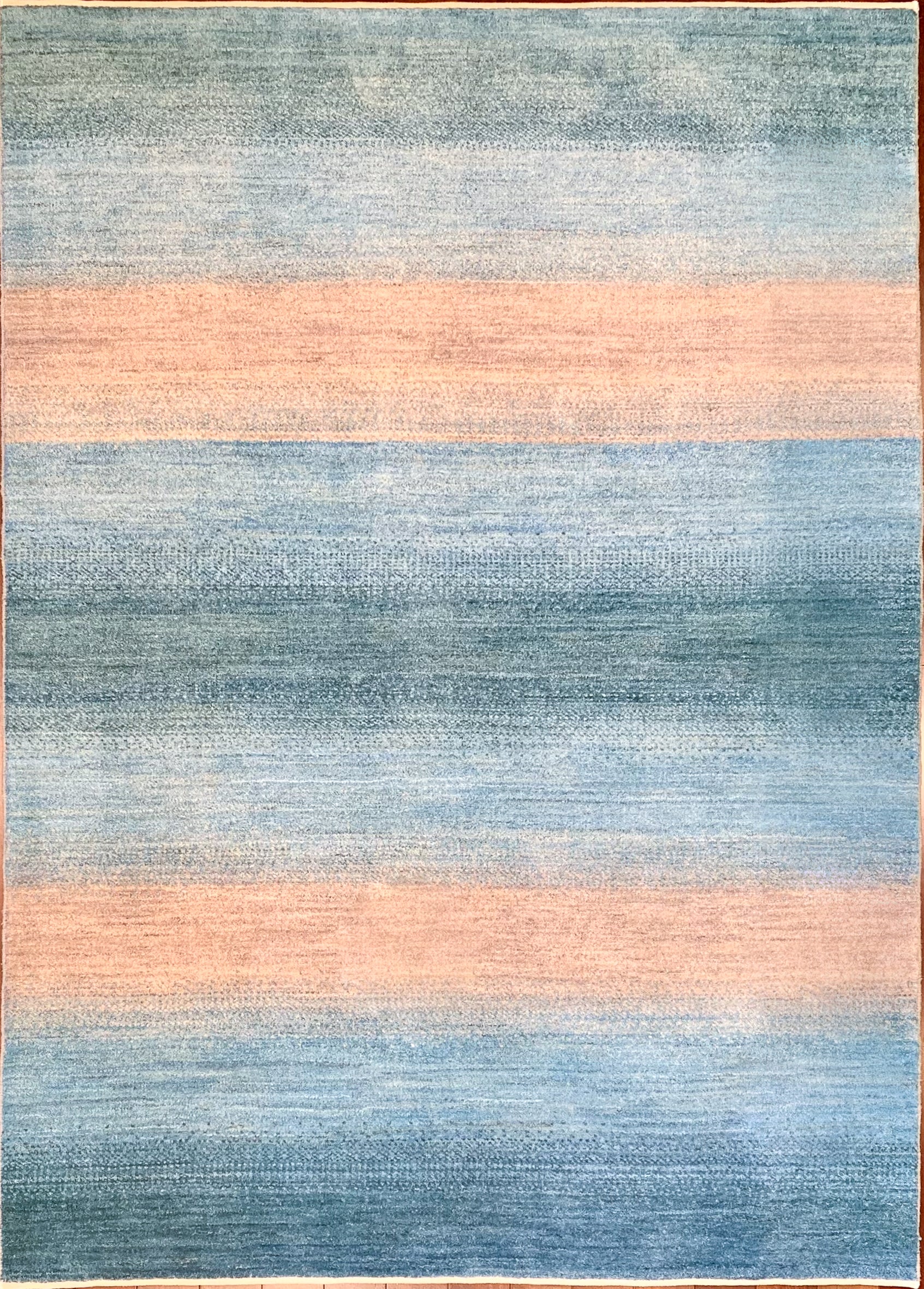 Blue and Beige Sherkarlou 5x7 Gabbeh
Incredible Gradation of Blue, Green, and Natural Wool in this Gabbeh Rug
Shekarlou rugs tend to feel softer in the hand when compared to other rugs in the Gabbeh family of rugs due the lack of the double wefting technique used in the construction of the foundation. Shekarlou rugs use a single weft, which results in a carpet that feels much less stiff than its more rustic cousins. The designs of the Shekarlou rugs tend to gravitate away from the more abstract imagery of the Amaleh Gabbeh, and the rigid traditional feel of the Luri woven pieces, and often seek to convey a sense of timelessness or an emotional feeling by the use of color and gradation. The wool is the same durable high altitude wool produced by the migrating sheep of the Zagros Mountains used in Gabbeh rugs and will retain its beauty for years to come. The colors are all sourced from naturally growing plants in the region and hold up very well to sun exposure.
This is just one example of the many wonderful rugs that we have in our showroom. Purchase through our site and have it shipped to you, or come see this or any of our other unique and one-of-a-kind hand-knotted rugs in person in our 2037 NW Lovejoy Street showroom in NW Portland, Oregon.
Measures: 4'9" x 6'7"
Materials: Handspun Wool and Naturally Sourced Dyes
Hand-knotted in Southern Iran by Semi-Nomadic Weavers.
Rug #7562
Shipping calculated by weight via Shopify.
Blue and Beige Sherkarlou 5x7 Gabbeh
Need more information on this item?
Contact Us
Phone our Showroom, we would be happy to answer your questions or assist in arranging an in-home trial of a rug. +1 971.444.2440
Contact